Salt City/ Code M/ Udan Patolas: Webisoda Weekly OTT Update June #1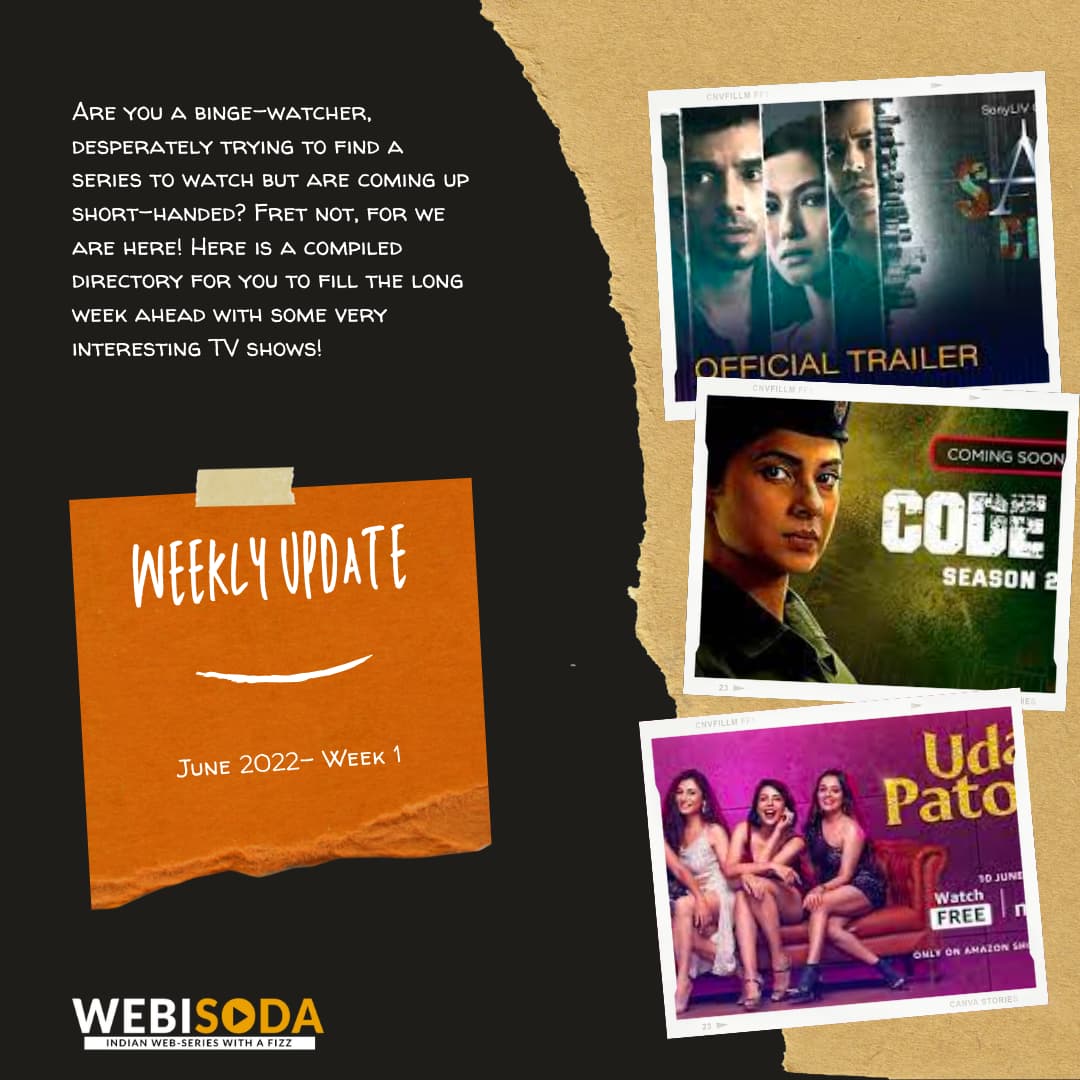 Hello and welcome back to Webisoda's Weekly Updates. This month- June is very important for a lot of reasons. This month marks the halfway mark of the year. Where did the six months fly by? It feels as if we were just celebrating the onset of 2022! June also holds the annual Summer Solistice, the proclaimed hottest day of the year! This time it falls on Tuesday, June 21. So gear up! June also celebrates the LGBTQ+ community- a spirit of love and inclusivity and most importantly, the freedom to choose your individuality! 
In other news, the Johnny Depp v/s Amber Heard court trial came to an end with the jury unanimously announcing Depp as the winner of the lawsuit. It was gruelling and ugly and Depp fans around the world rejoiced for their icon. 
Coming back to our weekly update, here's your blockbuster watchlist update! 
Salt City: Actress Gauhar Khan comes to the OTT market once again with a very relatable family drama. Her pivotal character will navigate through the dynamics and nuances of interrelated relationships. She proclaims that Salt City will be one of the best family dramas to hit the Indian Entertainment industry. Will this SonyLIV series live up to its own words? Keep watching!
Code M: Jennifer Winget is back with the second instalment of her thriller series Code M. She plays an energetic and dynamic intelligence officer working tirelessly to protect her country from anti-social elements. With a new case coming up, she needs to work round the clock to keep the nation safe! Watch on Voot!
Udan Patolas: The plot of this series revolves around four Punjabi girls who come to Mumbai to start their independent lives. Like other series in this genre, they will see ups and downs and rise through various relationships and circumstances and find their individual selves. This series streams on Amazon MiniTV, add to your watchlist now! 
Jaane Anjaane Mein 5- Charmsukh 2: The steamy and taboo series is back again with an even more hot plot! Charmsukh 2's sex-induced plot will revolve around the main protagonist and her 'conquests' that just get more and more controversial! If it tickles your fancies, this series now streams on ULLU! 
9 Hours: Streaming on Disney+ Hotstar, 9 Hours is a heist story involving three prisoners who are called upon to rob a bank and return back to prison before the next patrol assesses the presence of all inmates. This Telugu series will be set in the 1980s and is a literary adaptation of Telugu literature. It is thrilling and puts you on the edge of your seat, so add it to your watchlist now! 
And that brings us to the end of our list. Let us know in the comments below about your favourite series from this list and we'll see you next week!