Raanbaazaar/ Avrodh S2/ The Morning Show: Webisoda Weekly OTT Update May #4
Welcome back to another edition of Webisoda's weekly update. The month is coming to an end- the hottest month of the year. Or is it? The months of June and July can be pretty confusing as seasons are in different parts of our country. One can only pray that the sweltering heat reduces and we are exposed to some of that sweet monsoon coolness as soon as possible! 
In the world of entertainment, quite a few developments have risen! First off, the Cannes Film Festival- one of the most prestigious, and exclusive film festivals and award ceremonies in the entertainment industry. Our very own Deepika Padukone was a jury member for the Cannes, and she led the Indian battalion at the festival with style and panache. Other actors from India included Pooja Hegde, Tammannah Bhatia, Nawazuddin Siddiqui, Urvashi Rautela, Diipa Khosla, Hina Khan and Cannes veteran Aishwarya Rai herself among others. Rajasthani singer Mame Khan brought to the festival the rawness and beauty of indigenous Rajasthani culture- music and art. Needless to say, Indians represented a beautiful amalgamation of Hollywood meets Bollywood with all the glam in the world! 
Secondly, industry 'outsiders' Kartik Aryan and Kangana Ranaut go head to head with their releases of Bhool Bhulaiya 2 and Dhaakad respectively. Reportedly, Aryan wins the race by a large margin as Kangana Ranaut's action thriller tanked at the box office with very less viewership. Will Kangana accept the fate of her movie or will she blame it on the 'movie mafia' as she has before? We'll be sure to let you know! 
With that out of the way, let us focus on the watchlist for this week!
Raanbaazaar: Tejaswini Pandit and Prajakta Mali of Marathi soap fame come to us with a new series Raanbaazaar- a political thriller with a twist. This story revolves around two escorts who get entangled in a web of politics. What secrets will they uncover, and how will they rally this threat to their lives? Stream Raanbaazaar, released on 20th May. 
Avrodh (S2): SonyLIV brings to us Avrodh (S2), a military drama that showcases the heroics of our brave soldiers who lay down their lives for the greater good. The first season revolved around India's surgical strike against the Pulwama attack. The second season will be a loose adaptation of Shiv Aroor and Rahul Singh's book India's Most Fearless which covers more unheard tales of our soldiers' bravery. Excited? We sure are! 
Untitled project: Scam 1992 fame Pratik Gandhi has been signed up to play the iconic role of Mahatma Gandhi in a series adaptation of Ramachandra Guha's books. Applause Entertainment bought out the rights to two of the writer's works. Pratik Gandhi will bring to like the story of the father of our nation, and the rise of contemporary India post-independence. After his absolutely memorable performance in Scam 1992, Pratik Gandhi is sure to add one more accolade to his hat!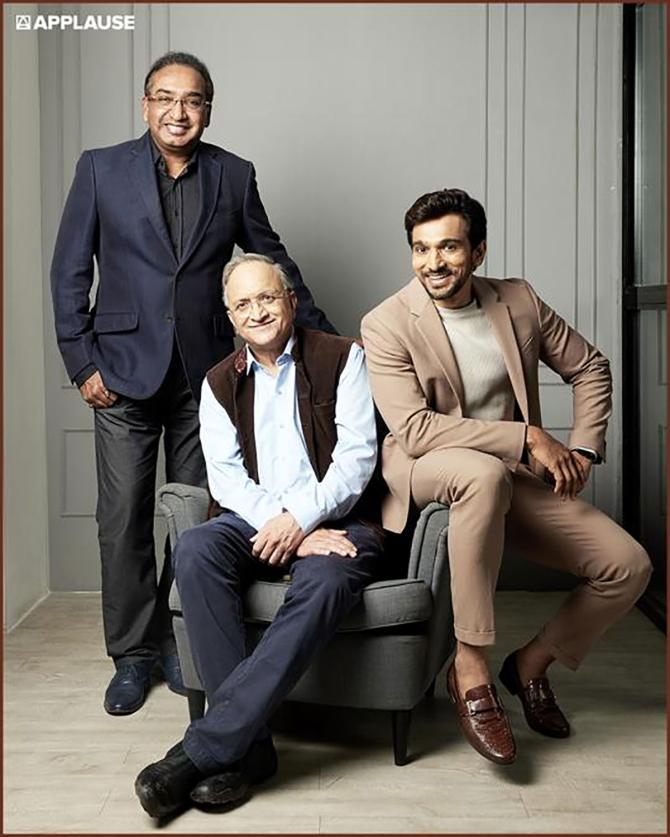 The Morning Show: Ali Asgar and Siddharth Sagar bring to us this fresh, one-of-a-kind character focussed comedy produced by Team Creative Mafiaa. The story basically revolves around one character that the CCTV focuses on in a gym every day. It's a limited series satire, each episode being merely 20 minutes long! 
Scam 2003: SonyLIV is back with a second instalment of the Scam series! Scam 2003 will showcase the story of Abdul Karim Telgi. Born in Karnataka, the series will focus on how a man from a humble background went on to become the mastermind of one of India's greatest scams! The series will soon be released for streaming on SonyLIV.
That brings us to the end of our watchlist for the week. Here's some food for thought- do you think OTTs and web series are replacing the magic of watching entertainment on the big silver screen? Let us know what you think in the comments down below and we will pick it up the next week! Happy binging!