So, what does it take to be a social media sensation? Find out with Firstpost's new series – #SocialMediaStar. Conversations with your favourite viral stars conceptualised and anchored by Janice Sequeira. Featuring Sonam Kapoor, Bhuvan Bam of BB Ki Vines, Rajkummar Rao, Masaba Gupta and many more. Launches 5 May.
Wednesday, 13 September 2017
|
Whether you are planning a pregnancy, already pregnant or a new mother, we'll answer all your questions on Firstpost's upcoming show 9 months. Stay tuned.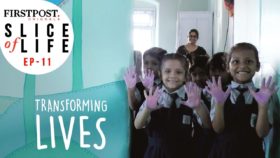 Saturday, 05 December 2015
|
Tweet with #FirstpostSliceOfLife and share stories of people, things and places around you & we'll add them to our bank of amazing stories, probably even make an episode out of it. These are stories of people around you.