Wednesday, 27 February 2019
|
From the makers of Little Things, What The Folks! and Adulting, comes 'Home Sweet Office'. A story of cousins Adhira and Shagun, two highly creative individuals who decide to jump on to the bandwagon and start their own business of candid wedding films and quirky wedding merchandise. Amongst the interesting startup problems they face is
Wednesday, 20 February 2019
|
It takes a bunch of crazy people to make your craziest wishes come true. Welcome to the weirdest startup in the world: Tathaastu – Your Craziest Wish Is Our Command. Episode 1 releases Feb 20 on Arré and MX Player.
Saturday, 09 February 2019
|
A relationship we've all lived. A relationship we've often taken for granted. This is our story. We've just never paid attention to it. Until now.
Thursday, 31 January 2019
|
Wouldn't it be great if there was an app to score maal? Ari & Ankit agree. Here's presenting the first episode of our new web series 'Joint Venture'.
Thursday, 30 August 2018
|
Its about few jobless, But ambitious youngsters and their creative hub Yuvadhara Arts & Sports Club..!!
After a long struggle, Yellow Banana Film Production got a project of Underwear brand – "Chhupa Underwear".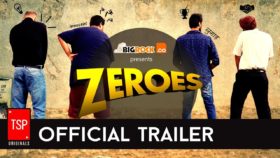 Friday, 02 February 2018
|
Already late in the startup race, four zeroes come together with an almost delusional ambition to create a great company. Will they succeed? What is their million dollar idea?