Wednesday, 27 February 2019
|
Running a startup? Ok, good. Startup partner is your cousin? Well… that's ok. Still manageable. The office is in the middle of your middle class Baniya family's home in Delhi? Now that's a situation. And a comedic one. Watch how Adhira and Shagun make their way through their family, their relationship and the startup culture
Wednesday, 20 February 2019
|
What? A Startup to fulfill all my wishes? Even the craziest ones? Like a genie in my… apple? Well, sign me up. Watch the budding face of digital entertainment Shivankit Singh manage this weird assembly of a startup in this new Arre Original releasing exclusively on MXPlayer.
Saturday, 09 February 2019
|
Adi is a 26 year old who still lives with his mother and that is a problem to him. For he knows that he cannot leave his widowed mother alone but also bring with her is a constant struggle to grow up. And in this they manage to start something together. Find out what in
Thursday, 31 January 2019
|
Who hasn't thought of this? A stoner's always on the lookout for easier ways to score some but the pesky lawman won't let everything be 420. What if there was an app to do so? Watch Joint Venture to find out what happens in this stoner startup.
Thursday, 30 August 2018
|
Its about few jobless, But ambitious youngsters and their creative hub Yuvadhara Arts & Sports Club..!!
After a long struggle, Yellow Banana Film Production got a project of Underwear brand – "Chhupa Underwear".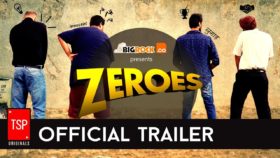 Friday, 02 February 2018
|
Already late in the startup race, four zeroes come together with an almost delusional ambition to create a great company. Will they succeed? What is their million dollar idea?