Over the past five years, there has been an uptick in original Indian web series . There are now more than 800 web series in India and the number is growing everyday. In this post, we are continuously ranking and adding the shows that we have watched. More reviews are up on our Instagram.
1. Gullak (SonyLiv, 2019)
Creators: TVF @tvfqtiyapa
Actors: Geetanjali Kulkarni, Vaibhav Raj Gupta, Jameel Khan, Harsh Mayer
Genre: Family, Sitcom, Vignettes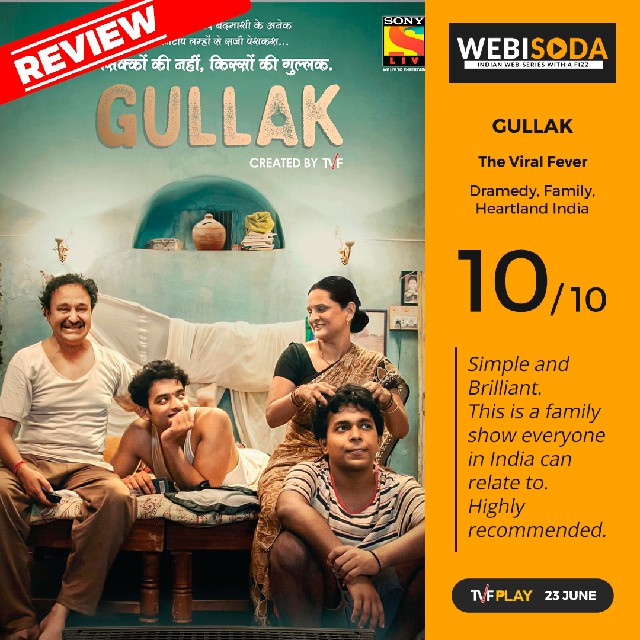 Possibly the best show to come out of the TVF stable and that is saying a lot. This very real portrayal of the middle class, small-town India hits too close to home some times and other times leaves you smiling in nostalgic glory. Performances of the main actors and the smaller roles are porch perfect. I wholeheartedly enjoyed this show. TVF's Gullak is streaming for free on Sonyliv.
Webisoda Rating: 10/10
2. The 'Other' Love Story (Youtube, 2016)
Stars: Shweta Gupta, Spoorthi Gumaste
Seasons: 1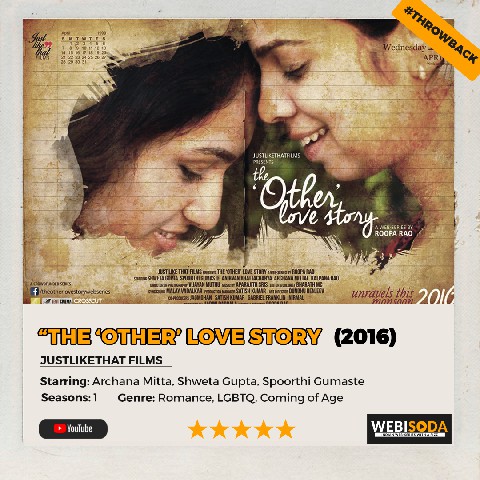 One of the first and still the best portrayals of an LGBTQ+ relationship in Indian media, The Other Love Story by @jltfilms beautifully captures the coming-of-age love between these two girls. Simply shot and produced and wonderfully performed, this show is one of a kind and still holds up to this day. With short number of episodes and woefully limited to just one season, this web series can be watched in a short binge session no problem. At the end of the year, we will be working on the best web series of the last 5 years and TOLS will surely feature in it.
Webisoda Rating: 10/10
Know More about The Other Love Story
3. The Insiders (MXPlayer/TVFPlay, 2019)
Creators: TVF @tvfqtiyapa
Stars: Arnav Bhasin, Brij Bhushan Shukla, Himika Bose, Mukul Chadda, Omkar Kulkarni, Ritviq Joshi
Genre: Comedy, Coming of Age, Dark Comedy, Surreal
Language: English mostly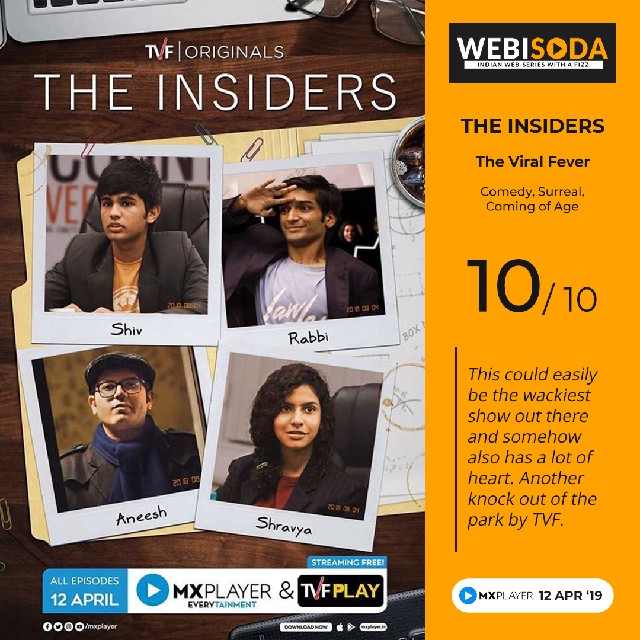 The Insiders must be one of those shows that comes along once in a while and blows your freaking mind away. The content is farcical and the execution is brilliant beyond your imagination. For example, one character mentions that his baby sister is like a soap opera vamp and then when the sister appears, she's actually a komolika look-alike. Some bits and jokes are hidden in the background (one says 'kadhi se kadhi saza milegi' and then other eats dahi kadhi in the background) others are in your face, but made with such genuine whimsy, you cannot help but fall in love with all of these characters.
A must watch for anyone who's tired of the same content ( cue '7 types of north Indian girlfriends' videos) and wants something fresh and so out of the box that the box is a dot to you.
Wholly recommended. Available on TVFPlay & MXplayer.
Webisoda Rating: 10/10
4. TVF Pitchers (TVFPlay, 2015)
Stars: Naveen Kasturia, Jitendra Kumar, Arunabh Kumar, Abhay Mahajan, Akanksha Thakur, Biswapati Sarkar, Gopal Dutt, Maanvi Gagroo,
Seasons: 1 ?
Here is the one that started them all. True that TVF's Permanent Roommates was the first to introduce to the Indian public what a good, original and skillfully produced web series that was wholly desi, but then came the juggernaut, the one that sparked the fire of original Indian web series that is now 750+ shows strong.
The show is about a group of four friends embarking on a shared dream and experiencing the successes and pitfalls together. Simple enough premise, but what they weave through it is magic. The acting, writing, music and production quality is top tier, although, if I have to point out some faults, it isn't wholly accurate to how the startup scene in India is (not that it needs to be). And that most probably did not stop people to at least considering leaving their corporate jobs (It did for me :D)
Pitchers was more than a show. It was a promise that we can get good content out of this country and the last five years have been a scene to watch.
Then again, the eternal question still exists @tvfqtiyapa: Pitchers Season 2 kab aayega?
Webisoda Rating: 10/10
5. Made in Heaven (PrimeVideo⁠, 2019)
Cast: Arjun Mathur, Jim Sarbh, Kalki Koechlin, Shashank Arora, Shivani Raghuvanshi, Sobhita Dhulipala
Director: Reema Kagti, Zoya Akhtar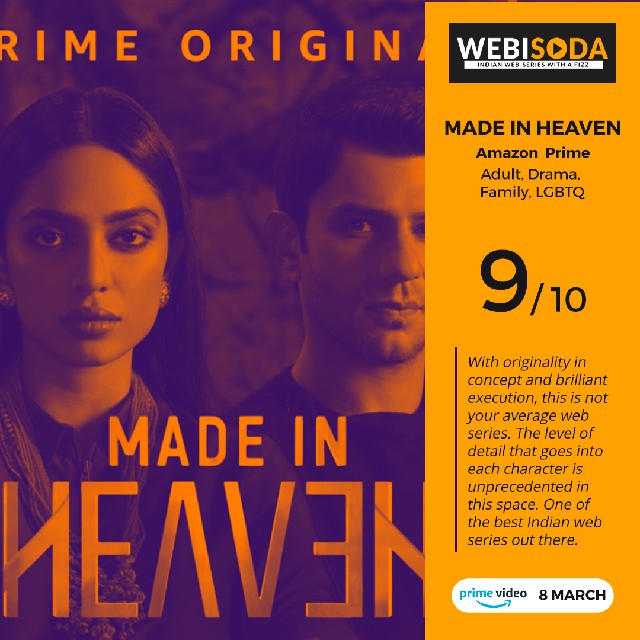 With originality in concept and brilliant execution, this is not your average web series. The level of detail that goes into each character is unprecedented in this space. One of the best Indian web series out there.
Webisoda Rating: 9/10⁠
Know More about Made in Heaven
6. Taj Mahal 1989 (Netflix, 2020)⁠
Creators: Netflix @netflix_in⁠
Cast: Danish Husain, Geetanjali Kulkarni, Neeraj Kabi⁠
Genre: Period Drama, Romance⁠
⁠
(Guest review by @ritikamandhwani)⁠
⁠
Netflix's 'Taj Mahal 1989' starts with beautiful cinematography of Taj Mahal and the lines 'ye subah ko gulabi, din me safed aur raat me sunhara nazar aata hai. '⁠
Released on Valentine's Day it's an amalgamation of love stories based in Lucknow about 4 couples, ranging from a 22 year old love story to the first love in a guitar class⁠
The music is brilliant, the theme song is beautiful and it captures the true essence of Lucknow. ⁠
⁠
The thing that I most liked in the series were dialogues, they just win your heart and the actors have done true justice to their roles. The show talks about social stigmas, college politics, complexity in relationships and of course love. ⁠
⁠
There's a cute mix of philosophy and physics, Urdu poetry and Shakespeare, capitalism and communism.⁠
⁠
I had a doubt though, 1989 mein fuck bolte the kya log? ?⁠
⁠
Webisoda Rating: 9/10⁠
Know More about Taj Mahal 1989
7. Panchayat (Youtube, 2019)⁠
Creators: TVF @tvfqtiyapa⁠
Language: Hindi⁠
Stars: Jitendra Kumar, Neena Gupta, Raghubir Yadav, Biswapati Sarkar, Chandan Roy, Deepak Kumar Mishra, Faisal Malik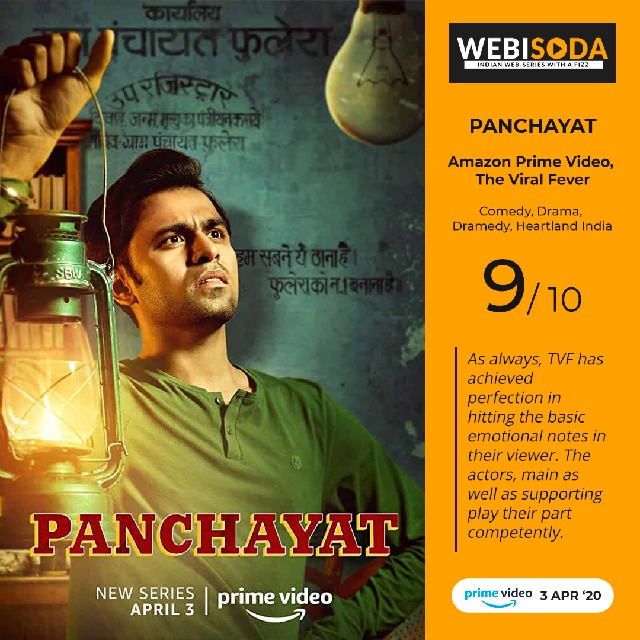 ⁠
A simple enough village life, is that a bit too much for Abhishek? TVF's Panchayat brings us the story of an engineering graduate who feels the brunt of the job market and finds himself posted as the secretary or sachiv in a UP village working on a meager salary. As always, TVF has achieved perfection in hitting the basic emotional notes in their viewer. The actors, main as well as supporting play their part competently. If you've ever lived in a village, you know how uncomplicated life is. The problems do look simple to city folk as we see through Abhishek's eyes but are still problems nonetheless and that comes out beautifully. Sometimes the village seems too idyllic and not fraught with caste/class/gender issues, though there are hints here and there we'll give them a pass on this for this is a beautiful show and passes by in a breeze. ⁠
⁠
Webisoda Rating: 9/10⁠
8. Kota Factory (TvfPlay, 2019)
Actors: Jitendra Kumar @jitendrak1 , Mayur More @_more.of.me_ , Ahsaas Channa @ahsaassy_ , Alam Khan @iamalamkhan, Ranjan Raj @rranjanraj18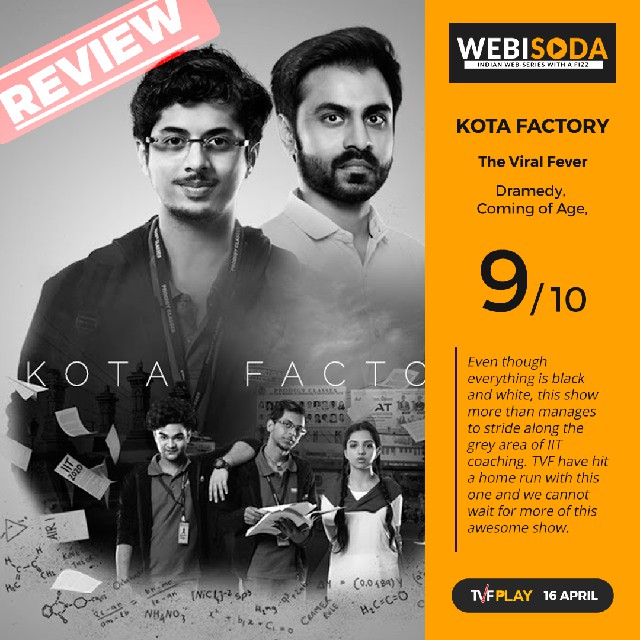 One of the best shows to be released on YouTube this year, Kota Factory strikes a fine balance between the nitty gritty of Kota coaching life and the everyday shenanigans of its resident students. Unlike #biswakalyanrath's 'Laakhon Mein ek', which showed just the horrible side of coaching students that go through, this show walks the line beautifully. Whole heartedly recommended for everyone.
Webisoda Rating: 9/10⁠
9. Pandu (MXPlayer, 2019)
Creators: BhaDiPa, MXPlayer
Language: Marathi
Actors: Deepak Shirke, Prasad Reddy, Suhas Sirsat, Trupti Khamkar, Abish Mathew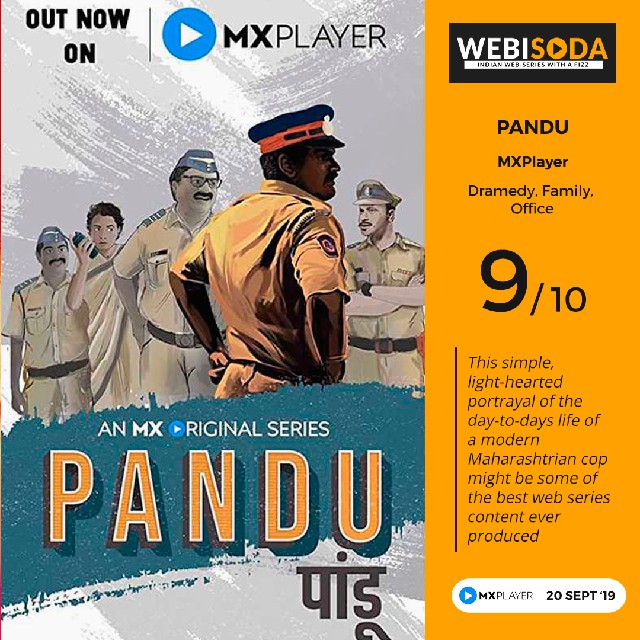 Showcasing vignettes from the life of a police inspector in Mumbai, Pandu captures magic in its six episodes. It moves the needle so far away from the stereotypical portrayal of cops in movies that you see them as humans that are getting through life one day at a time like all of us. Favourite episode has to be the melancholy one, Suhas Sirsat's performance in this one is too good.
The performances and production are superb and even though the show is comedic overall, it still stands out as one of the best pull-at-your-heartstrings show of the year.
It's a short, sweet series and has subtitles (although some nuances might go amiss if you don't understand the language, but watch it nonetheless and let me know)
P.S: This has familiar faces @abishmathew & @actortrupti in characters you may not have seen them before.
Webisoda Rating: 9/10⁠
10. Baked(2015)
Stars: Shantanu Anam, Pranay Manchanda, Manik Papneja
Seasons: 2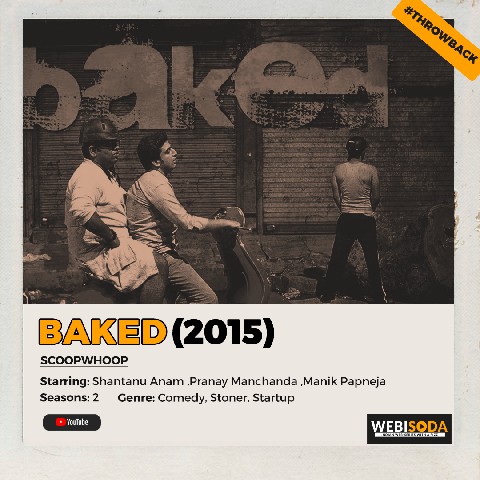 This was one of the first Indian web series that showcased the power of a well-scripted, episodic streaming show. It is about a group of three friends who start their own night food delivery business. They're stoned, horny and get into trouble on every turn and that's why we love this show. Recommended for everyone who liked college roommates type stuff like Tvf's Bachelors.
Please everyone pester @scoopwhoop to make more of this. This deserves a third season.
Webisoda Rating: 9/10⁠
11. Hostel Daze (PrimeVideo, 2019)⁠
Creators: TVF @tvfqtiyapa⁠
Language: Hindi⁠
Cast: Adarsh Gaurav, Ahsaas Channa, Ayushi Gupta, Badri Chavan, Biswapati Sarkar, Luv, Nikhil Vijay, Ranjan Raj, Shubham Gaur⁠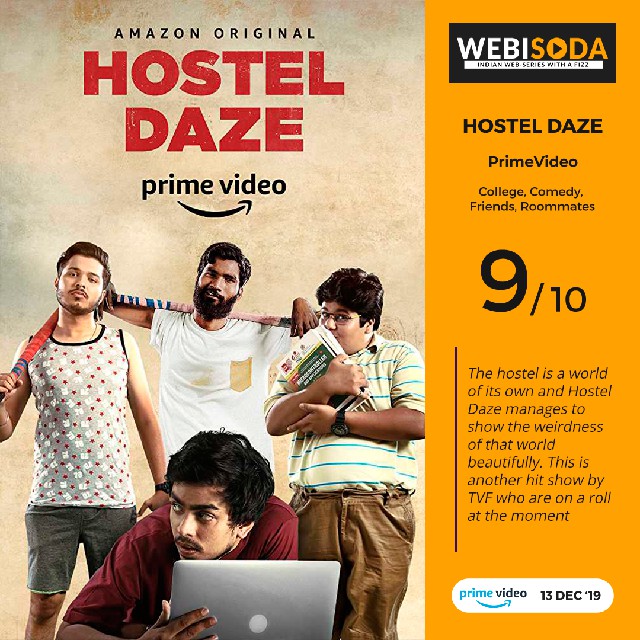 TVF is releasing hit after hit and this one is no different. Making a world feel lived in is one of the charms of theirs and Hostel Daze just exemplifies what this studio is all about. The whole season is just 5 episodes long but it goes by like a fresh wind of breeze. Packed with nostalgia, fantastic characters and a hostel whose practices, though problematic at times, come off ultimately as sweet. All in all, this web series emphasizes the main theme that binds all the boys in the hostel together: Porn… I mean, friendship. ⁠
This one is not to miss.⁠
⁠
Webisoda Rating: 9/10⁠
12. Operation MBBS (Youtube, 2020)⁠
Creators: Dice Media
Stars: Ayush Mehra, Anshul Chauhan, Sarah Hashmi⁠
Director: Amrit Raj Gupta
⁠
Does your idea of an MBBS college not go far from the one where they give Jaadu ki Jhappi for free? Then you definitely need a dose of Dice Media's new web series 'Operation MBBS'. This show takes us through the whole first year of three medical students' life, what it took for them to get here and the struggles that lay ahead with lots of laughs thrown in. ⁠
⁠
Operation MBBS touches on all the major things that medical students go through. It may not be the most accurate representation but it certainly gets close. The show and the actors manage to make us care for these characters over a course of just five episodes. There are some inside jokes that only medical students will get but the overall story is pretty universal. Dealing with seniors, the stress of excelling, being in a field you're not interested in, family pressures; these are the themes everyone can relate to. ⁠
⁠
The core, as well as the supporting cast, has done their job to a tee as did the rest of the crew to make it one of the best web series to come out in this short year.⁠
⁠
Webisoda Rating: 9/10⁠
Know More about Operation MBBS
13. Man's World (2015)
Creators: Y-films @yfilmsofficial
Stars: Gaurav Pandey, Gurpreet Saini, Nivedita Shukla
Seasons: 1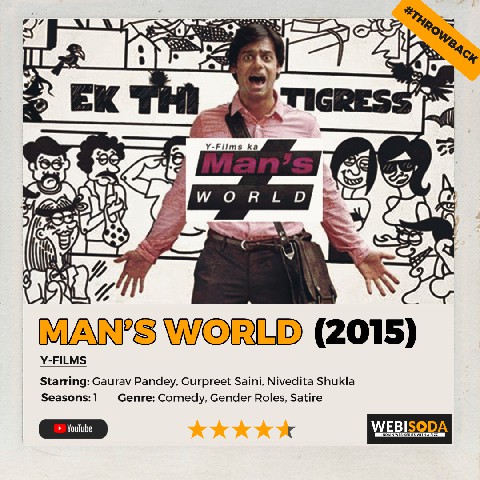 This was one of the first Indian web series or any media in fact, to tackle gender roles head on. In Man's World, a man who's born and bred in a sexist society such as ours wakes up one day to find that the roles have reversed and he's the sex that's being oppressed. This show contains tiny details, great performances and surprising cameos.
Recommended for everyone who likes Freaky friday type of movies.
Webisoda Rating: 9/10⁠
14. Jamtara (Netflix, 2020)⁠
Creators: Netflix
Language: Hindi⁠
Stars: Sparsh Shrivastav, Monika Panwar, Aksha Pardasany, Amit Sial, Anshuman Pushkar, Dibyendu Bhattacharya, Kartavya Kabra, Rohit Kp, Sarfaraz Ali Mirza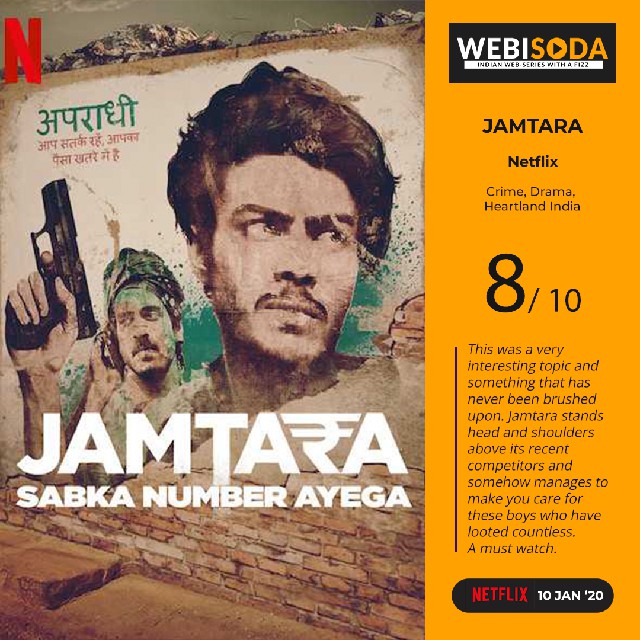 ⁠
What a non-stop breathtaking show this was. India needed a good show that showcased the heartland and its crime, as well as Gangs of Wasseypur did, and this one is the one that touches the mark closest. Jamtara is a story about ambition, power and money that corrupts boys as young as 16. The leads are played by relative newbies and they do an exceptional job in the role that they're given. The way the story moves is also a mark of a well-written show, though some characters felt too one-shade. Maybe we needed that. ⁠
But the grey lines the lead characters, esp Sunny and Gudiya, walk on is something to behold. ⁠
⁠
A must-watch for sure. Eagerly waiting for Season 2.⁠
Know More about Jamtara
⁠
Webisoda Rating: 8/10⁠
15. Once a Year (MXPlayer, 2019)
Creators: Bhadipa
Language: Marathi
Stars: Nipun Dharmadhikari, Mrinmayee Godbole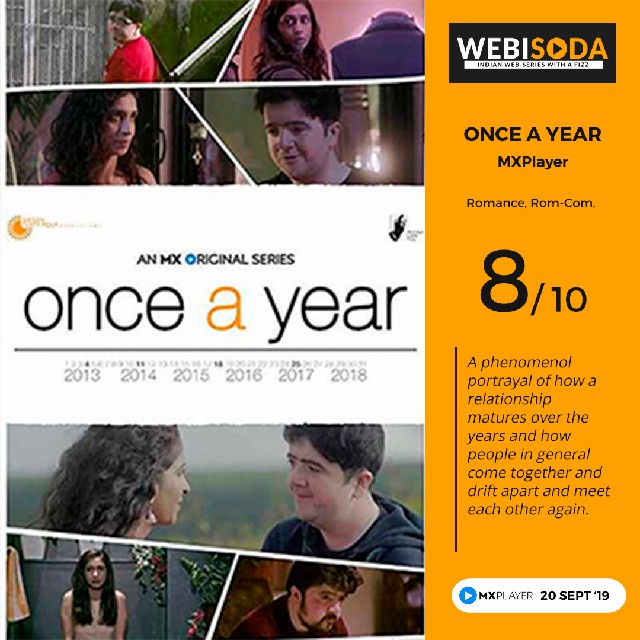 The premise of the show is simple yet they manage to execute it beautifully. We follow a couple over the course of six years (and episodes), where you peek into just one day of their lives. How do they grow? Will their relationship last? Are you supposed to ask these questions when it's not your typical rom-com? This show goes beyond the will-they, won't-they and you get a glimpse into how much two people mature over the course of years. The fact that Nipun & Mrinmayee can play any age added to the right decision of casting these two. The writing and production is on point on this one and I'm amazed at the different scenarios chosen for the vignettes.
This came out the same day as Pandu and I think that hurt 'Once a Year' a bit given that Pandu was something nobody in India had ever seen before. This is still a must watch and can be finished in about 2 hours. Subtitles included.
Webisoda Rating: 8/10
16. TVF Cubicles (TVFPlay, 2019)
Creators: TVF @tvfqtiyapa
Language: Hindi
Stars: Abhishek Chauhan, Arnav Bhasin, Badri Chavan, Nidhi Bisht, Shivankit Singh Parihar, Sameer Saxena, Niketan Sharma, Khushbu Baid
Created by: Amit Golani
Director:Chaitanya Kumbhakonum
TVF has a knack of taking the mundane and making it extra special. Cubicles is one such example. The show blends humor and drama in a nice little cocktail of wholesomeness. TVF and many web series do rely on the voice-over as a way of hand-holding the viewer, but you get past it after the first episode.
As always, the performances and production are on-point. Episode 4 in particular is one that causes butterfly-in-your-stomach feeling that good romances do. This show has a fresh approach to the "Office=Death" mantra set by their own Pitchers. Our hero here wants the stability and is excited by the prospect of it.
As most good TVF dramas, this is a story about growing up and living with constant change. This is a 5-episode long must-watch and we can't wait for season 2.
Webisoda Rating: 8/10
17. Star Boyz (Youtube, 2016)
Stars: Kenny Sebastian, Mani Prasad, Naveen Richard
Seasons: 1
Somehow people have forgotten about this show, and especially given the levels of fame Kenny and Naveen have risen to in recent years, the amnesia is perplexing at best. Nevertheless, Star Boyz is exactly what its premise offers: 3 South Indian boys in space. And if you went in expecting anything else, you might be disappointed. It's goofy, silly, has a robot with a tendency of an annoying younger sibling and unique in terms of being the only Scifi comedy to come out of India. A must watch for all fans of the people involved.
Webisoda Rating: 8/10
18. Little Things (Netflix, 2019)
Creator: Dice Media @dicemediaindia
Stars: Mithila Palkar, Dhruv Sehgal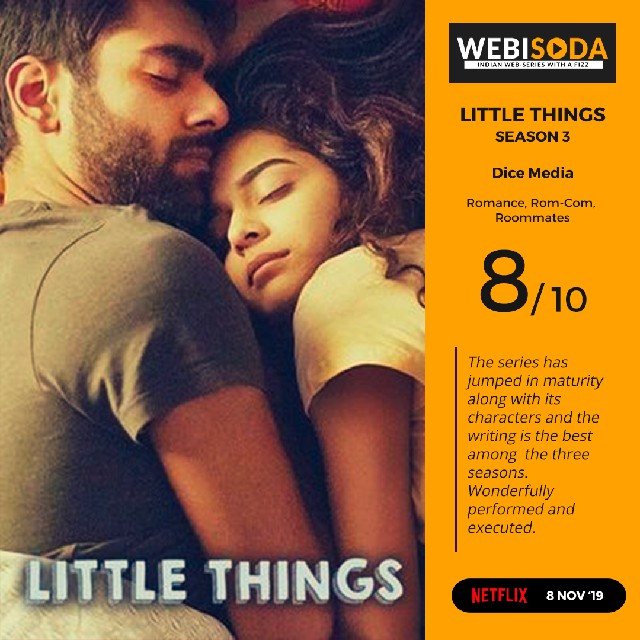 When Little Things first came into foray a couple of years back, I couldn't have predicted that this show would grow so much in terms of writing and performance. These two actors have played their part to a perfection and the direction the series moves in this season allows them to grow as people. Dhruv and Kavya are not the same people you met in Season 1 but you're still interested in their love. Probably the first time in Indian media where a long distance relationship is shown with such nuance.
Watch it if you like well-written shows about a romantic relationship between two adults.
Webisoda Rating: 8/10
19. The General Fun Game Show with Kaneez Surka (Youtube, 2017-)
Creator: Kaneez Surka @kaneezsurka
I mean, can you even review this? That 8 is just so that I don't show my total bias against this show. In reality, it's an ? on silliness and making me laugh.
This show is a laugh riot from start to end all because of the queen herself and the contestants, of course. The show's been going on for the past couple of years, but they've just finished season 2 and it feels like a perfect opportunity to review (more like dote on) this show. Ever since Indian TV was filled with soaps you can't wash out from your eyes and reality tv where somehow everybody has a tragic back story, the game shows have been sorely missed. Kaneez's attempt might not be a sincere one (I mean the points don't matter) but it's the most fun show there is. It's so fun to see the lengths the players are ready to go for a point.
Favourite round is 'Word!', could probably see a whole show based on that.
Also, some of your favourite people from comedy or otherwise show up in this and be their goofy selves, so you can't really not smile through the entirety of its two-season run. If you're a Kaneez/improv fan, I don't know how you've missed this. If you have though, do check it out. It's worth it.
Webisoda Rating: 8/10
20. Criminal Justice (Hotstar, 2019)
Remake of: The Night of(US), Criminal justice (UK)
This is probably the first remake in almost 400+ Indian web series and boy, what an entry this is. Vikrant Massey and Pankaj Tripathi give exceptional performances and even Jackie " Bhidu" Shroff turns in an outstanding one. A must watch.
Webisoda Rating: 8/10
Know More about Criminal Justice
21. The Family Man (PrimeVideo⁠, 2019)
Creator: Amazon PrimeVideo
Stars: Manoj Bajpayee, Priyamani
There isn't a whole lot of family in Amazon Prime's The Family Man tbh. I know this is against the popular opinion, but if the feeling you get after binge watching this extremely well produced show is 'ok, what was the point?' then I think something is lavking in this. The performances by Manoj and the people around him are great and the action is tight too. The terrorists, well not so much. They're the typical "hindustan ko tabah kardenge" variety and bring nothing new to the table. The double crosses were not that convincing. At first of what I thought was a compelling side of a character, turned out to be a generic villain. The story gets muddled by the end.
But, all things said, I'd still watch season 2. Hoping that they'd keep the focus on Srikant and how he's dealing with things and not just reacting to things that are happening around him.
Webisoda Rating: 7/10
Know More about The Family Man
22. Apharan (AltBalaji, 2018)⁠
Creators: AltBalaji @altbalaji⁠⁠
Stars: Arunoday Singh, Mahie Gill, Monica Chaudhary, Neha Kaul, Nidhi Singh, Saanand Verma, Sanjay Batra, Varun Badola⁠
Director: Sidharth Sengupta⁠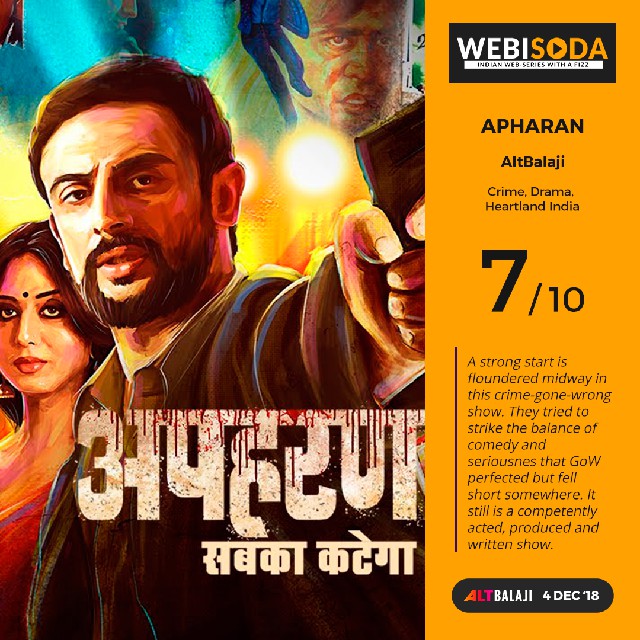 ⁠
I was really on board this show from the get-go. It was a perfect blend of comedy-crime-drama to become an enjoyable show. But, as with most shows that are stretched to more than required episodes, it went out of hand especially after a dark turn mid-way that the series, in my mind, was not able to recover from. From then on, the comedy seemed out of place and things start devolving from illogical to absurd. Still, I think it's one of the better-produced shows out there, just not my cup-of-chai I guess.⁠
⁠
Webisoda Rating: 7/10⁠
23. Afsos  (PrimeVideo⁠, 2020)⁠
Creators: Amazon PrimeVideo⁠
Language: Hindi⁠⁠
Stars: Gulshan Devaiah, Anjali Patil, Dhruv Sehgal, Heeba Shah, Jamie Alter, Ratnabali Bhattacharya⁠
⁠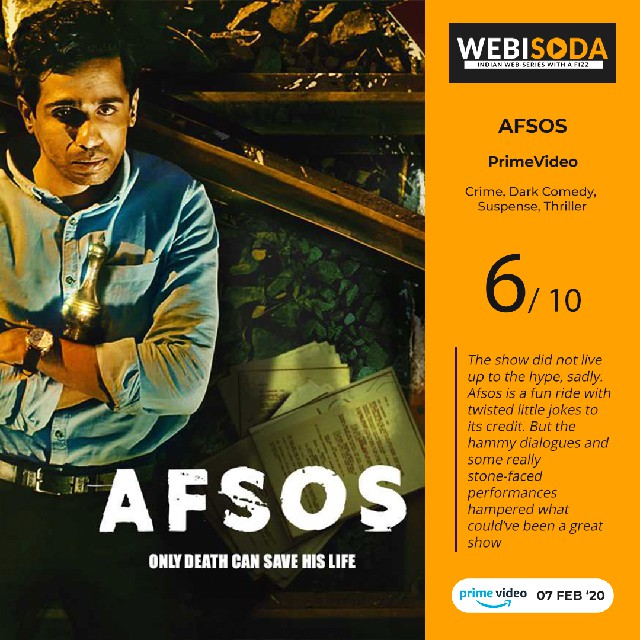 ⁠
The trailers were so good for this one that I don't know what exactly went wrong with Amazon PrimeVideo's 'Afsos'. ⁠
There is a serious dearth of Dark Comedies in and I was really looking forward to this one. The first couple of episodes were good but then the plot goes way out of hand in a way that doesn't make sense. I was screaming at the screen – 'That was so stupid!' Gulshan Devaiah's performance was good too but the rest of the cast, oof. Maybe the dialogs they were given were not up to the mark for these are top-class actors. English dialogues between some characters felt way off the mark and fake. The assassin's motivation seemed flimsy. The love story (or was it?) seemed forced. There are some funny and 'laugh-when-you're-not expected-to' moments , but few and far apart.⁠
A classic case of where the idea was better than the execution.⁠
Our suggestion: Watch it only if the trailers interest you and see if the first 2-3 episodes are worth it or else, give this a pass and watch something else.⁠
⁠
Webisoda Rating: 6/10⁠
24. The Raikar Case (Voot, 2020)⁠
Creators: Voot⁠
Language: Hindi⁠
Stars: Ashwini Bhave, Atul Kulkarni, Kunal Karan Kapoor, Lalit Prabhakar, Neil Bhoopalam, Parul Gulati⁠
⁠
Guest Review by @nomnmnomn⁠
⁠
The Raikar Case, newest in the thriller series collection, focuses on solving a murder involving an affluent family in Goa. While no family is perfect, Raikar family is an extreme example of imperfection woven by twisted thoughts and intricate relationships of family members.⁠
The ones who have been to Goa or even remotely heard of Goan places from friends will feel familiar with the setting. The actors genuinely try to portray their characters but fall a little short and end up over-acting at places. The graphics of the opening scene and some dubbed scenes leave much to be desired. Nevertheless, this series would go in my one-time-watch list for the plot is decently binge-worthy and captivating with flavourful twists.⁠
Webisoda Rating: 6/10⁠
Know More about The Raikar Case
25. One Mic Stand (Primevideo, 2019)
Actors: Angad Singh Ranyal, Ashish Shakya, Bhuvan Bam, Kunal Kamra, Richa Chadha, Rohan Joshi, Sapan Verma, Zakir Khan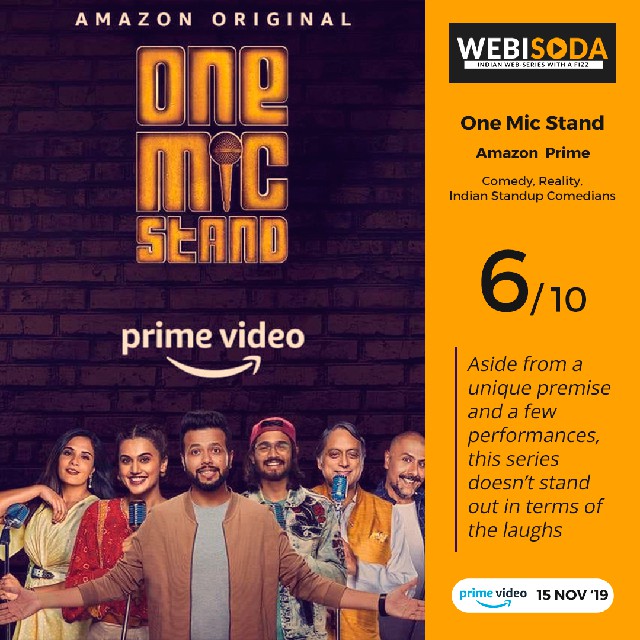 The concept is really good and out of the box, I wish the execution was the same for Sapan Verma's One Mic Stand. It felt as though they've tried to cram too much into a short show. Would've loved to see the actual mentoring like we've seen previously on Comicstaan instead of one-off chats in cafes. It's always great to see celebrities being human and facing the same fears normal people face, they could've expounded more on it. The performances are good especially for first-timers so that at least points out the fact that the mentoring was good. Just would've loved to see more of it
Watch it if: You liked Comicstaan or are fans of the celebs appearing in this show in general. I mean what kind of monster hates Taapsee.
Webisoda Rating: 6/10⁠
26. Flip (Eros Now, 2019)
Creator: Bijoy Nambiar
We have been waiting for an anthology that would go head-to-head with Black mirror and Twilight zone but looks like we have to wait some more
Webisoda Rating: 6/10⁠