Diwali is a festival where we get the license to be our loudest and most exuberant self. That is the case for some people. For others, like me, it's just another excuse to curl up and fire up a string of shows that warm the heart. Most of the shows in this list are family-oriented shows but I've thrown in a few surprises like raisins in chiwda. So bring along that bowl of chakli and besan laddoos and binge on the roster that is coming up.
1. Yeh Meri Family
Creator: TVF
Released: Jul 2018
Seasons: 1
This show, released lin 2018, still remains one of the sweetest things produced by TVF. Maybe it's the nostalgia factor, the impeccable writing or a 90s world that seems so lived in. At least for the first episode, I felt that it was hammering down nostalgia down your throat but then the story and performances take over and you'll be heavily invested in the lives of these kids and their parents. Definitely a must-watch for anyone who hasn't seen it yet.
Know more about 'Yeh Meri Family'
2. Gullak
Creator: TVF, SonyLIV
Released: Jun 2019
Seasons: 1
Small-town big dreams. It seems TVF is handling the family genre perfectly. With 'Gullak', they've explored stories filled with the flavors of the by-lanes of heartland North India. Vignettes cut out of the lives of small-town, big-minded but middle-class to the core Mishra family, this web series will warm your soul this Diwali. So, sit back and soak in the flavors of these gallis.
3. What the Folks
Creator: Dice Media
Release date: May 2017
Seasons: 3
We had suggested WTF two years ago and the recommendation still stays the same. Dice Media are out with their third season of this wonderful web series, which is a clear indication that it is still going strong. A great show to watch with family and loved ones. With Little Things Season 3 coming out on Netflix next month, they have their hands full with awesomeness.
Season 3 of this wonderful, well-produced, well-acted show is still going on.
Know more about 'What the Folks'
4. The General Fun Game Show with Kaneez Surka
Creator: Kaneez Surka
Released: Feb 2017
Seasons: 3
This show is just fun. General, Fun. No? Ok.
Kaneez is a great host and you can clearly see her improv chops in this one. The only Game show to hit this site, it's packed full of nonsense rounds and amazing guests. Kaneez's self-deprecating humour is what gets me rolling. This show is perfect for that festive humour and great to watch with friends coz it's general and fun and a game and a show.
Ok, I'll stop.
Know more about 'The General Fun Game Show '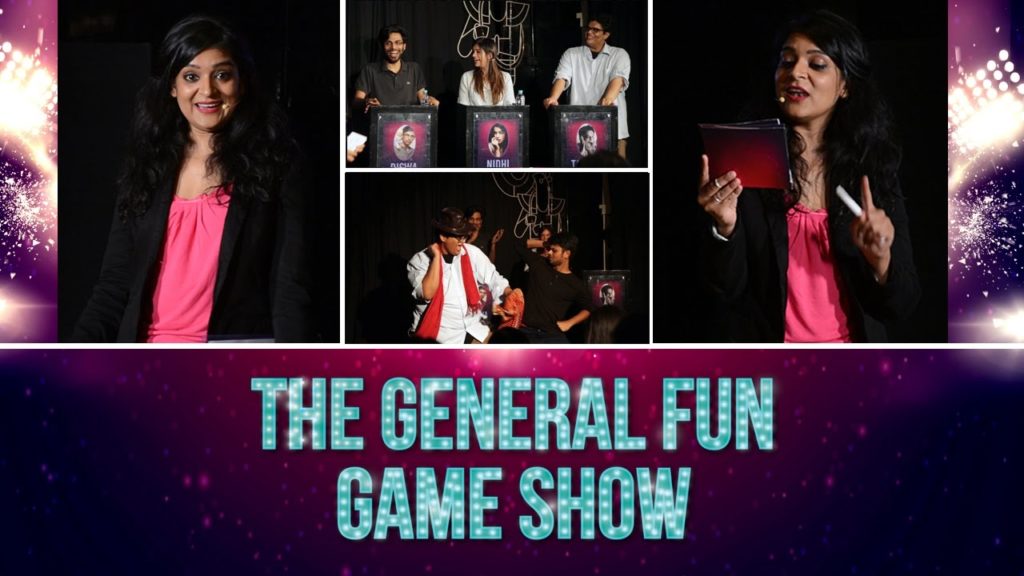 5. The Aam Aadmi Family
Creator: The Timeliners
Released: May 2017
Seasons: 3
This show is currently on my list as one of the best to come out of the web series scene and season 3 has been going very strong. Every character will feel like you know them and that's no small feat. The second season, though, has a bunch of promotional dialogue, but don't let it distract you from the quality of this show. Season 3 was again a strong showing from this wondrous cast and crew. Aam Aadmi Family is one of the strongest feelgood shows out there and we wish the cast and crew loads of luck for the probable fourth season
Know more about 'The Aam Aadmi Family' 
6. Sarabhai Vs Sarabhai – Take 2
Creator: Hotstar
Released: May 2017
Seasons: 3
It's a shame that a show so good was called off after its first season. That's Indian TV for you, spewing out non-sensical drabs in the name of comedy (looking at you Jethalal) and if I'm left to my devices, this whole post will be filled with how much I hate our TV shows currently airing, but I digress. Sarabhai vs Sarabhai was one of the best shows on Star One when it launched and I am so happy that it got a second season. This season might not be better than the first, but it's still pretty good. Watch the brilliant actors live out their zany characters once more and let nostalgia atleast make you ignore some of the subpar writing in this season
Know More about 'Sarabhai Vs Sarabhai – Take 2'