The Resurgence of the Webisoda Blog
/
Wednesday, 01 January 2020
/
Published in
Blog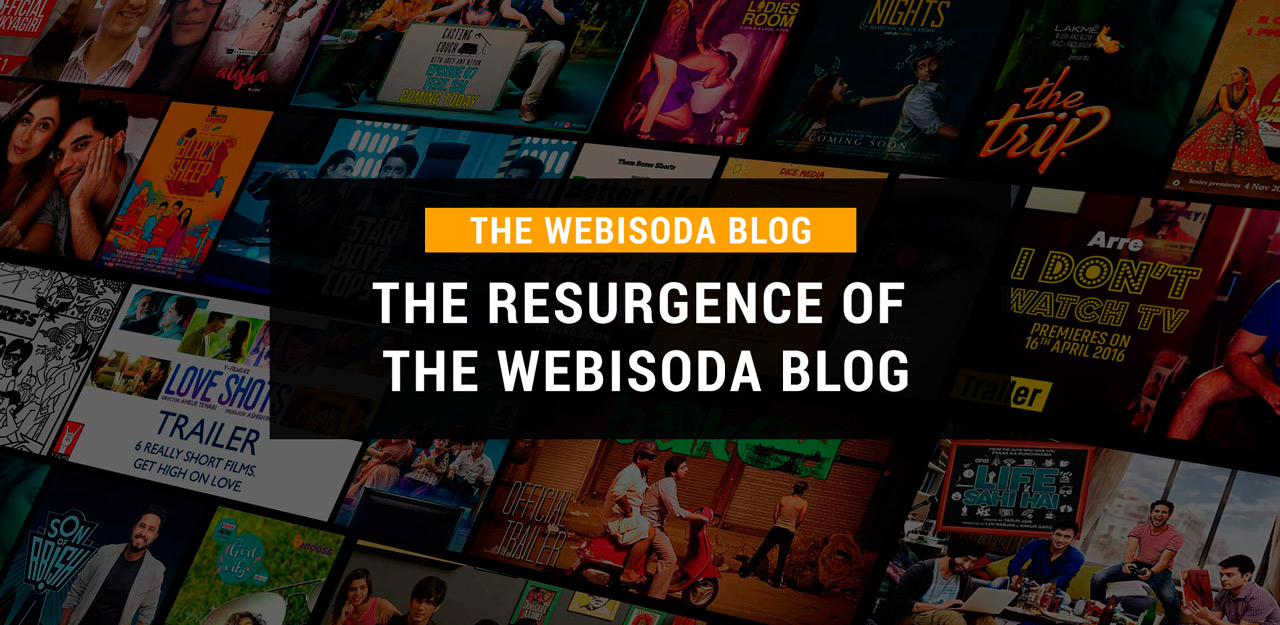 Well, hello again! Long time, yes, but we are back. The website's been growing steadily for the past couple of years and I thought this would be a nice way to introduce and subsequently reiterate what Webisoda is and what does it aim to do.
Webisoda began as a passion project of a doe-eyed boy who had no idea the kind of work building a site for a booming market would be like. And booming it was! In the past 4 years since the first wave of web series rolled out on to the Indian market, ostensibly starting with TVF Permanent Roommates, it has never ceased and everyday we see news or release of a new web series released on the market (I should know 🙂 ) We've had shows go up to 6 seasons (Looking at you Breakfast with Champions) The market has risen and grown like a balloon filled halfway with steamy youtube thumbnails. That analogy was exactly the same amount effort as some of the scriptwriters on some shows do, which is not that much. Ok, I'll try and not be negative about the quality of these shows. To each their own, I guess. Meanwhile, do check out our Adult web series page to see more of the aforementioned steamy thumbnails and the shows related to those thumbnails and their information.
In the past four to five years, there have been more than 450 web series put out by more than 180 creators on 22 OTT platforms (including youtube). Don't these numbers just boggle you? Sure, yes big Indian players like AltBalaji and Zee5 have pumped in money and star power for the requisite eyeballs on their site, but smaller players have done well too. Platforms like Hoichoi and Addatimes who're creating web series exclusively for the Bengali belt is astounding, to say the least. And there are of course the newer entrants on the Indian scene but behemoths overseas, Netflix and Amazon Prime. The quality of content and emphasis on storytelling in some of their content is at par with their international content. Shows such as Sacred Games, Mirzapur, Leila, Made in Heaven have upped the game for what original Indian scripted web series can be and if made well, the audience will respond positively (except for Leila, but that's mired in its own controversy. That's another new thing, web series are generating controversies!)
Much more will be covered in detail in an upcoming blog about the Indian web series scene, replete with stats and graphics that the SEO gods like. But this here, this is a space where we can just celebrate what the scene has become and how we are growing. For the past 6 months, we have partnered up with Hoichoi and you might have seen their banners popping up on the site, that's no accident *cheeky wink*. Here's one now
But seriously, Hoichoi has some great content on their site and we are ever so grateful for them to support us in our growth. We are seeing more than a lakh new visitors per month and that's saying something. Exactly what it's saying is this: GOOGLE LOVES US! And you guys do too. But it should love us more than it currently does. We are the asshole boyfriend that's demanding it be loved for its tiny little efforts so that whenever someone types in 'web series' our face should show up like the asshole boyfriend staring in from the window right now. Oh my god, why are you still reading this? He's got a knife in his hands! Run Simran Run!
Okay, now that you are safe. You can continue reading this or watch something like horror web series which might mirror what you just went through. Trigger warnings galore. Ok, where were we? yes, Google. It's pagespeed loves us, that is a given. We recently scored a high 92% on Google pagespeed and I genuinely shed a tear or two at the green circle appearing on my screen. We are striving to make the website faster and better and more informative so that you can find the exact information you are looking for.
In the future, what we plan to introduce are more original content starting from blogs, web series reviews, monthly roundups of how the web series market has been and if all goes as planned, video content & podcasts too 🙂 There is going to be a major redesign coming up, more user interaction so you can be a part of the conversation, creator on-boarding so you can know and talk to the creators right here, pushing regional content and making it shine better in the crowd, showcase of smaller creators, hidden gems among smaller web series and much more stuff. We are here to set the trend and that trend starts with whether to spell web series with or without the space. I myself have been precariously using both versions but am now sticking to my guns and using it with the space. That's how we do it here at Webisoda (no space).
This experiment might go wrong, horribly wrong sometimes, but we hope that our users will be forgiving enough to continue using the site, which will soon be an app as soon as we are flushed with cash. Anybody looking to hand out wads of cash and gold coins so I can swim in it like Uncle Scrooge can send an email to [email protected] or you can just mail to talk to us about what you like and dislike about the scene. Hit us up at Instagram, we're all ears. Also, send us your resumes, just in case the wads of cash show up. We may need to hire content writers, social media team and all that gamut. But everything at its time and pace. What we have achieved now is nothing short of greatness: we have written a cool 1000 words for this blog and that should at least please my darling Google, whom I serenade on high seas while Ganesh Gaitonde's theme plays in the background. You know sometimes lagta hai apunich blog ka bhagwan hai!
Anyway, what I meant to say in this whole post is that we have been chronicling all the growth of the Indian web series space and are planning to go deep into the belly of the beast in order to bring valuable content to our users. Big things are in the offing and don't forget to subscribe to our notifications (Man, I should really start a youtube show, I can at least nail the call to action).
PS: Do add your email address in the footer below so you can be notified whenever one of these goes live. Ciao! Tata!