SonyLIV is one of the most popular OTT platforms rising in subscriptions and viewership in India. It is owned by Culver Max Entertainment and was released in 2013 as India's first OTT platform.
Two years ago, SonyLIV relaunched its platform into the world of OTTs- SonyLIV 2.0. To celebrate this relaunch, SonyLIV has planned a massive release slate for the year 2022-23. Many shows are scheduled for a second season, a few originals are under production, and the platform will stream multiple web series and movies! The company announced that they'll be releasing over 50+ shows in Hindi and 50+ shows in other regional languages with this new release.
We, at Webisoda, are here to guide you through this release slate and keep you updated about the latest developments regarding your favourite web series! Let us get right into it!
Tanaav: Tanaav is an adaptation of an Israeli drama Fauda. This series is set in 2017 Kashmir and follows the story of a special ops team that fights against insurrectionists. It is a story of love, revenge, courage and betrayal.
Freedom at Midnight: Freedom at Midnight is a political thriller. It narrates the story of India during its fight for independence, and important personalities who played very crucial roles in freeing her from British rule.
Dr Arora: This series revolves around a small-town doctor who treats men from different sections of society who have health issues regarding their manhood. This is a new, unique concept, and a first in the world of Indian entertainment.
Avrodh 2: The second season of this blockbuster web series unravels more sinister plots that international enemies have planned for India. Politics, strategies, counterfeit currency, and so much more- this series is a rollercoaster of action and thrill that keeps you at the edge of your seats. Streaming now on SonyLIV, add it to your watchlist now!
Maharani 2: Another political drama added to the list, Huma Quereshi returns to the series to play the role of Rani Bharti, the chief minister of Bihar. The story goes on to show how an illiterate woman is thrown into a job traditionally held by men and how she holds her own despite all odds.
Faadu A-Lo: Starring Saitami Kher and Paveli Gulati, Faadu A-Lo is a story about two people with very different thought processes coming together and experiencing love and joy. Ashwini Tiwari who helmed the romantic comedy Bareilly ki Barfi will be back to headline this series too.
Rocket Boys 2: Rocket Boys was critically acclaimed for its marvellous story, acting and direction in its first season. And now it is back for a second instalment! We will most likely continue to see the relationship between great scientists Homi J Bhabha and Vikram Sarabhai evolve and grow.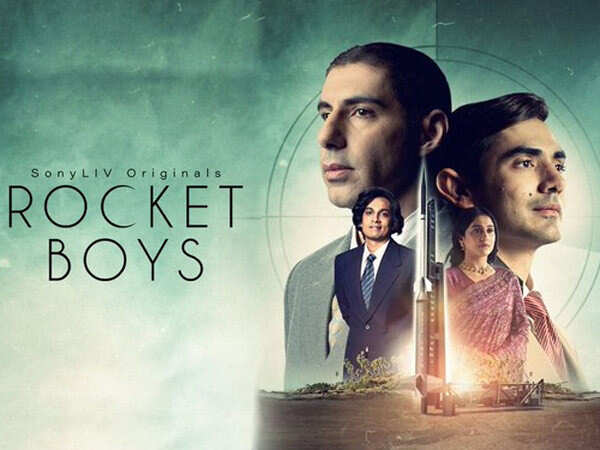 Good Bad Girl: Critically acclaimed director Vikas Behl, known for his work in movies like Queen, Chillar Party, and Super 30 is returning to direct this OTT series. We have very few details about the plot or the cast but we sure are super excited to see Behl's work on the small screen.
Jehanabad: Jehanabad is a web series starring Poulomi Das and is headlined by director Sudhir Mishra. The production company for this series has promised to release plot details very soon to the public. Stay tuned!
Mission RAW: This web series follows the story of India's first international intelligence agency RAW and its missions. Scam 1992 fame Hansal Mehta has joined hands with SonyLIV on this one, so we are super excited to see what is brought to the table!
Garmi: This web series will revolve around youth politics and their agenda taking place in Madhya Pradesh. Gangs of Wasseypur fame Tigmanshu Dhulia has created and will proceed to direct this series starring actors Jaya Ojha, Disha Thakur, Vyom Tadav, and Vineet Kumar.
Jengaburu- A Billion Dollar Cause: Filmmaker Nila Madhav Panda is known for her documentaries on social causes like pollution, poverty, child labour and education. She has also directed movies like I Am Kalam and Jalpari. Panda is back to direct Jengaburu, which will stream on SonyLIV soon.
Jazzy City '71: Another addition to SonyLIV's massive release slate, Jazzy City'71 will be created by Soumik Sen (director of Gulaab Gang) and directed by RS Vimal. We are yet to receive any details about the cast or the plot of the series, so stay tuned for further updates!
First Election- India 1951: Another socio-political drama series as an addition to the release slate, First Election will revolve around the first democratic general election in India post-independence. This web series will be created and directed by Rahul Dholakia.
Summer of '77- Children of Freedom: Sudhir Mishra is back to write and execute yet another SonyLIV project; Summer of '77- Children of Freedom. The details about the cast and plot are yet to be revealed, but we will make sure to keep you posted once that information is public!
Scam 2003- The Telgi Story: Hansal Mehta's Pratik Gandhi starrer Scam 1992 was so loved by the audience and critics, that the makers are returning for a second instalment of the series. Scam 2003- The Telgi Story revolves around the stamp paper scandal conducted by Abdul Karim Telgi.
Meme Boys: A group of young boys start a meme page anonymously on social media against their college administration only for it to sow the seeds for a nationwide revolt against the higher education system. Meme Boys will follow along on this story with Arun Koushik directing this Tamil web series.
Kaiyum Kalavum: This web series is another addition to Tamil releases scheduled on SonyLIV. The story revolves around a thief and a rather unlucky pickpocket who fall in love with each other more and more with every item they steal. It is a beautiful, unique story of love and trust.
Tamil Rockerz: An illegal pirating group plans to leak a bunch of big-budget movies out to the public that could cause massive losses to the production company. To stop this endeavour, a cop with a troubled history leads a team of specialists with the aim to hunt these pirates down.
Iru Dhruvam: The first season of this Tamil web series premiered on SonyLIV in 2019 with 9 episodes to its name. It is now back for a second season! It will star Prasanna, Nanda and Abhirami Venkatachalam in the lead roles. The series went into production in October 2021 and will be directed by Arun Prakash.
Victim- Who is Next?: This Tamil anthology series will be directed by Venkat Prabhu, Chimub Devan, Pa Ranjith and Rajesh M starring actress Amala Paul in the lead role. More details of this production will be revealed soon to the public.
Other series under development with the streaming platform are – Journey, Accidental Farmer and Co. and Nijam with Smitha (talk show with singer and actress Smitha) among other projects.
With this release slate, SonyLIV offers its viewers a massive amount of content to consume across a number of different genres. Webisoda is here to guide you through every release with its latest updates. So stay tuned to this space and update your subscriptions because it is time to binge-watch!